It's back again.
Monday, that is...although this morning has been so beautiful and peaceful that I think that "Monday" may have decided to wait another day to appear, and that I have instead reawakened on Sunday.
There is something so beautifully peaceful about this morning. It's a reminder to me as to why I don't write these posts on Sunday nights and schedule them to post the next day.
True, one of those reasons is because I have yet to figure out the whole concept of successfully scheduling my posts. But the other is because of the powerful beauty in awakening to a morning of twittering birds and cool almost-autumnal breezes.
51. An almost perfect week of OZ! rehearsals. I may have just set a theatrical jinx upon myself, but these past three practices have flowed like a summertime stream, and we are actually currently ahead. Lord, let this endure.
52. The sweet pain of correction, and knowing that I have a dear one in my life with the courage to pull me aside and speak words of change into my heart. "You have to let go, or else you will be consumed...you are beautiful and undeniably precious...you are not an untouchable."
53. Food. A simple blessing, you may think. But to me, this is a gift worthy of mentioning. Food is becoming an art to me...the complex combination of flavour and presentation, tugging on all five senses with sensory fingers of delight. Is this bringing me back to the days when I wanted to make my life out of edibles and create culinary masterpieces for a profession. A dream rekindled, perhaps?
54. A young teenager who holds the door for me, sincerely and without parental pressure. Chivalry is not so dead as we once feared.
55. |An afternoon of laughter with my husband, my father, and my visiting grandmother whom I have not seen since last spring. Sharing stories of my father's childhood adventures over plates of stunning food...laughing until we couldn't stop with tears pouring down our faces.
56. Our church. This place has touched the face of God. 18 months ago, we followed the call of God and took our seats in this place for the first time. May we never look back.
57. Curling into a pair of strong arms, feeling so secure and calmed by the touch of my dearest Love. Kisses on my forehead and nightly reminders that I am treasured, that I now walk this road as two instead of one, that I have a witness in this life. In case you wondered, I believe in soulmates. And I have truly found mine.
58. Hearing my sister's voice, from Italy to America via technology. How I miss her and my mother both. One more week without them, and then...the most beautiful of homecomings.
59. Wrestling with God, and being undone by His mercy.
60. Finding myself again. This broken vessel has a use in His hand. I can be fixed. I am not forever destroyed.
These are my blessings. Some fleeting, to be sure.
But most? How they will endure until the end of time and beyond.
The inspiration overwhelms me on mornings such as this one. The voice of my God is an echoing whisper in my soul, forever reminding and forever loving.
My cup runneth over.
We are hard pressed on every side, but not crushed; perplexed, but not in despair; persecuted, but not abandoned; struck down, but not destroyed..
.f
or our light and momentary troubles are achieving for us an eternal glory that far outweighs them all. So we fix our eyes not on what is seen, but on what is unseen, since what is seen is temporary, but what is unseen is eternal. ~2 Corinthians 4:8-9, 17-18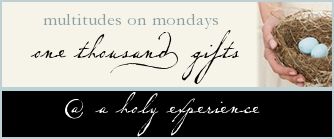 Linking with Ann, as I have done every Monday since July.
However, I have just now found the graphic.
Nine days left to enter into my August giveaway.