these lists on Monday have begun to change me.
the book has changed me doubly still.
the King has gripped my soul.
i never realized that this would be a transforming habit.
i make lists as it is. a bit compulsively, i might add. grocery lists, to-do lists, wishlists and Christmas lists, gifts to buy and things to make. food to cook and dreams to fulfill.
this is not a wishlist. not a collection of things i need or want or require to make my life a better place.
"not of gifts i want, but of gifts i already have...this writing it down -- it is sort of like...unwrapping love."
and so bit by bit
i unwrap this love.
92. respect. from peers is given, from position is earned.
93. new cell phones, gifted for twenty-one years from my parents. phone calls that can be made, texts to be sent, and that doesn't turn off without a moment of warning.
94. steaming mugs of raspberry tea. warming after the damping from icy rain.
95. corner booths in old-fashioned cafes.
96. "calm. peace. be still."
97. late nights in theaters, the smell of paint and sawdust in the air.
98. a word from His heart to mine. "So do not fear, for I am with you; do not be dismayed, for I am your God. I will strengthen you and help you; I will uphold you with my righteous right hand." (Isaiah 41:10)
99. plane tickets purchased to my best friend's wedding. less than a month, and the date is here.
100. the smell of new books
101. the wisdom of elders, the calming of friends, the sweetness of children.
i love these gifts of mine.
no more demands or wants.
these are gifts i already possess.
this is eucharisteo.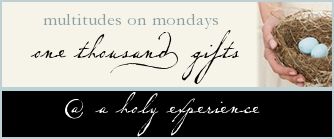 {linking up with this one thousand step journey}